EDIT: AGENT INTERVIEW WITH POOJA MENON WILL BE ON JANUARY 17TH AT NOON. IF YOU PLAN ON ENTERING THE CONTEST, PLEASE MAKE SURE YOU SET THAT DATE AND TIME ASIDE.
I know I've been killing you with all this secrecy surrounding the One on One contest. I apologize. Being so near the holidays, I wasn't sure if I could pull it off. Even announcing it was a gamble....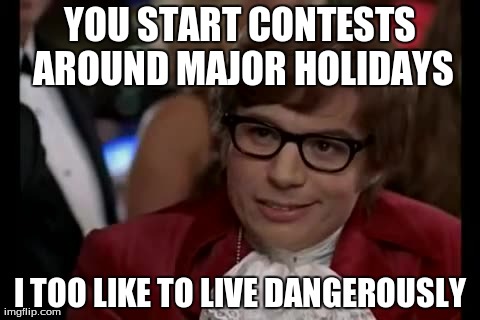 At noon (EST) on January 4th, I will accept the first fifty queries to make it into my inbox. Of those fifty, I will choose the ten best to post to my blog. Equipped with only three votes, the writers who make it into the contest will read through each of the other entries and vote on their favorites. Of course, you can't vote for yourself.

You have only three votes. You can use those votes on one query, or you can use one on three separate queries. How you spend you votes is completely up to you. I will break any ties.
The query with the greatest number of votes will win one on one time (30 minutes) with an agent to ask about anything from query advice to opinions on the current state of the publishing market. Winning doesn't guarantee a request. That is completely up to the agent's discretion. The agent may browse the other nine entries and make requests there as well.
The agent for the contest is the wonderful Pooja Menon. Below is a brief bio and what she's looking for.
Pooja Menon joined Kimberley Cameron & Associates as an intern in the fall of 2011, with the aim of immersing herself in the elusive world of books and publishing. She soon realized that being an agent was what she was most drawn to as the job was varied and challenging. She represents both fiction and non-fiction for Adult and YA markets.
In fiction, she is interested in literary, historical, commercial, and high-end women's fiction. She's also looking for mysteries/thrillers and horrors. She's most drawn to stories with an international flavor, vibrant characters, multi-cultural themes, and lush settings.
In fantasy, she's looking for original, layered plots with worlds as real and alive as the ones that were created by J.K Rowling and Tolkien.
In YA, she's looking for stories that deal with the prevalent issues that face teenagers today. She is also interested in fantasy, magical-realism, and historical fiction. She's also looking for
voice driven contemporary (both the light and frothy/romantic angle and the darker ones that deal with darker themes), steampunk, fantasy with a fresh take, mysteries/thrillers, and horror/gothic.
The interview will take place in the comments of a special post on my blog. At the present moment, there isn't an interview date set in stone, but it will be on or after the 15th of January. I'll announce the date as soon as she gets back to me.
Formatting for submissions:
Emails should be sent to catchyemailtitle (at) yahoo (dot) com
Times New Roman or a similar font. No indentation and a line break between paragraphs.
Subject line: Title/Genre
Body of Email:
Full name
Email address
Story Title
Query
(This should be the query only. No bio or the like.)
Just a heads up, if you made it into Nightmare on Query Street you will NOT be picked for the One on One contest so please don't enter. Also, this contest is only open to completed, critiqued, and query ready manuscripts.
Any questions, ask them in the comments.